Magical Tattoos and Scarification - Edition Reuss
SKU BK-MAGICALTATTOOS
Disponibile
69,99 €
69,99 €
49,99 €
49,99 €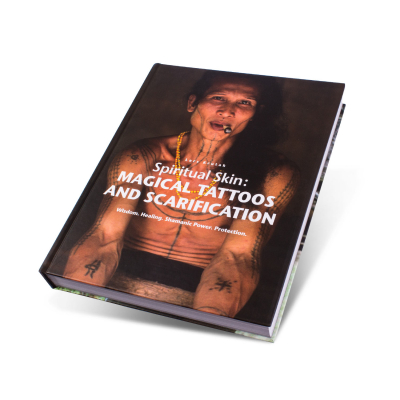 Spiritual Skin: MAGICAL TATTOOS AND SCARIFICATION è un capolavoro fotografico in due parti, esplorando il mondo del tatuaggio magico e della scarificazione. Basato sugli studi di 10 anni dell'antropologo del tatuaggio Dr. Lars Krutak studiando le società animistiche e shamaniche dell'Asia, Africa, le Americhe, e la Melanesia, Spiritual Skin: MAGICAL TATTOOS AND SCARIFICATION vi porta su un viaggio in territori sacri e vi rivela come la gente usa la modificazione rituale del corpo per accedere al soprannaturale.
Dati Tecnici:
Autore: Lars Krutak
Formato Grande 24,5 x 31,5 cm
400 pagine
Testo in Tedesco e Inglese
Copertina Rigida rilegato a filo refe
Spedizione
Tutti gli ordini completati entro le ore 16:00 di un giorno lavorativo saranno spediti il giorno stesso tramite il servizio di consegna richiesta.

Le spese di spedizione variano in base alle dimensioni e al peso del vostro ordine, a partire da soli € 9,95 per il servizio di corriere UPS. E' inoltre disponibile la consegna il giorno successivo.

NB La consegna in aree remote potrebbe impiegare più tempo di quanto indicato.
Garanzia