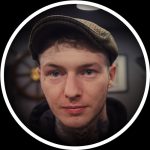 Intervista Luke Sayer
maggio 16, 2019

maggio 16, 2019

it

https://www.killerinktattoo.it/skin/frontend/killer/default/images/logo.svg

https://www.killerinktattoo.it/
Luke Sayer ha costruito una fama stellare e un seguito enorme negli anni con i suoi tatuaggi realistici in nero e grigio. Ora é il nostro turno di metterlo sotto i riflettori per la nostra ultima intervista.
Abbiamo parlato con Luke di tutto quello che concerne i tatuaggi, incluso come é riuscito a vincere l'edizione inaugurale di Tattoo of Artist of the Year di E4 nel 2017.
Check it out!
Luke Sayer, un artista sponsorizzato del mese Killer Ink, lavora attualmente nel suo studio di tatuaggi a Milnthorpe, Cumbria, dove abbiamo girato questo video.
Tieniti sempre aggiornato sui suoi lavori seguendono nei suoi profili Facebook, Instagram e Twitter!